The importance of designing natural spaces in urban places.
Construction cranes are common along most city skylines today with new high-rise apartment towers being a substantial part of the current construction climate. With nearly 330 million people in the United States, urban life is on the rise. Access to nature in dense urban environments can be a challenge to residents who live in large cities. Studies show that increased access to green spaces can greatly affect our mental health, reducing stress and providing calm. Even the sight of natural scenes can provide value. Taking these facts into consideration, how do we as landscape architects provide urban dwellers with a connection to the outdoors?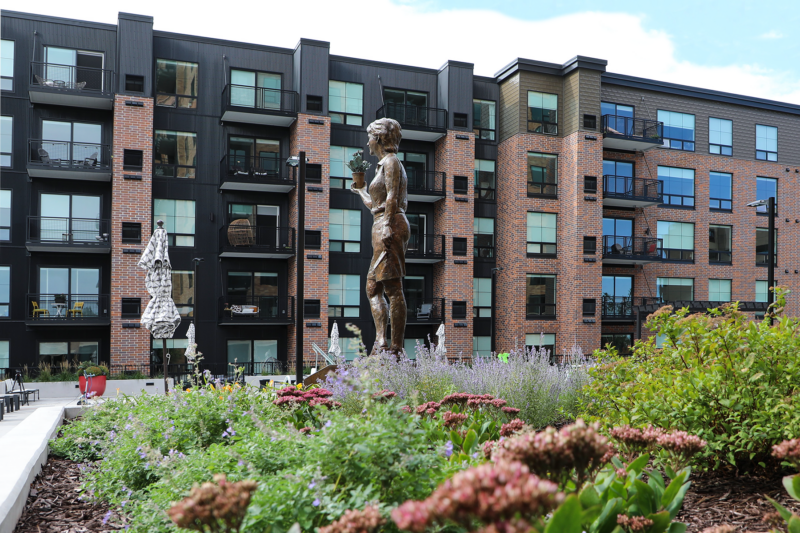 Blooming in Unexpected Places
Expo is a mixed-use luxury apartment tower representing the best in urban infill, planning and design. Located in the St. Anthony Falls Historic District near downtown Minneapolis, the 25-story building is host to a 30,000 SF roof-top terrace. With the help of the team, Alliant's lead landscape architect on this project, John Gronhovd, ASLA, designed an urban space that feels more like a park than a building. Swimming pool and spa, grilling areas, fire pits, lawn games and a putting green are all included in the modern rooftop terrace. The design includes a variety of plantings and landscape elements appropriate to the historic urban neighborhood.
When on the amenities deck one can't help but feel connected to nature. An assortment of perennials provides pops of color while hardwood and birch trees serve as backdrop. The deck was designed to provide connection to nature from inside the building as well; many of the building's common areas  contain views onto landscaped spaces filled with plants and art.
When describing a particular raised garden on the terrace, John says "We wanted to make these planters special from a landscape perspective while also featuring a sculpture by a local artist. We brought in a lot of green for the front row and then added large areas of color for contrast, which also draws the eye to the sculpture. Everything was done in a thoughtful manner to blend the architecture and landscape together."
The different grasses and trees throughout the amenities deck will mature to provide shade and additional natural elements while also providing privacy. Visual screening of the adjacent 7-story parking garage was achieved through placements of birch trees along the side facing the garage.
Form and Function
Privacy was also paramount at street level where the attached townhome entries are located. Cattails and red switchgrass were selected to create a buffer from the sidewalk to the individual entries, delivering height, visual interest, and diversity of color that thrive even in the winter months.
"When choosing plants and trees we have to think about a variety of things." said Gronhovd. "Plant heights, sun requirements, sequence of bloom, color, texture, and hardiness in our harsh climate are all considerations during design. To break up the façade of this large building, we organized plantings to provide visual steps. For example, the grasses reach the patio height, and the trees align with the height of the windows. All of them work in concert to bring human scale to the architecture, and create elements of green space in this urban area.".
Budding Future
Alliant's landscape architecture team contributes to our projects focusing on combining natural elements and city life. As we move toward a more sustainable future with more bike lanes and easier access to public transportation, it's crucial to allow natural elements to thrive in dense areas, allowing residents a connection to nature every day.