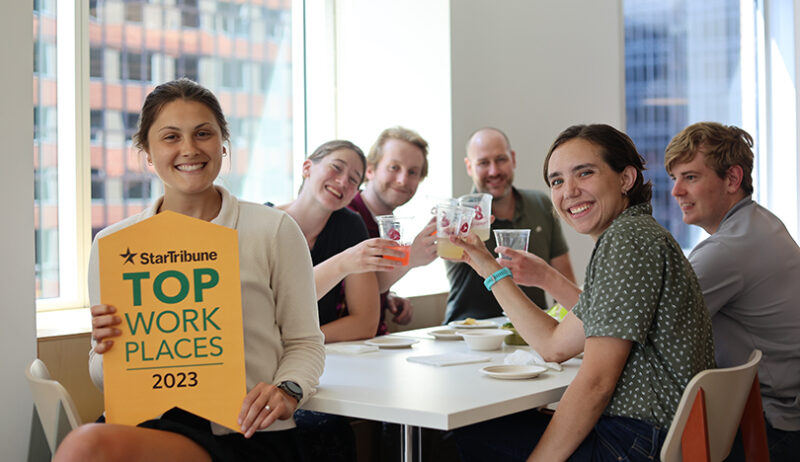 Alliant offers benefits that matter to you because you matter to us. From competitive salaries, bonuses, profit-sharing, and ESOP to health and wellness programs, Alliant offers benefits that positively impact all stages of your health and career from recent graduate to retirement. Our team is here to help guide and answer any questions you might have to put your mind at ease so you can focus on the things you love.
Financial Benefits
At Alliant, we want all employees to reap the rewards of being part of a growing, profitable company. Launched in 2019, Alliant's Employee Stock Ownership Plan (ESOP) is an important and generously funded part of our compensation triangle (salary, bonus, and retirement contributions). Alliant makes an annual contribution of company stock to the ESOP, which then allocates that stock into the individual employee-owner accounts. Historically, the contribution percentage has been around 10% of eligible compensation. In addition to the ESOP, we also offer the following financial benefits:
Competitive salaries with bonus structure
Paid overtime for most exempt positions
Employer profit sharing & 401(k) contributions
401(k) and Roth 401(k) savings plans
Generous Annual Leave Program
Paid holidays
Compensatory Time Off Program
Employee-Focused Events
All company meetings
Department outings
Summer golf outing
Holiday parties
Summer family picnic and Winter Social
Birthday and anniversary recognition celebrations
Insurance & Health Benefits
Medical, dental, and vision insurance
Company-sponsored health reimbursement account (HRA)
Flexible Spending Accounts and dependent care
Company-paid life insurance
Company-paid short- and long-term disability insurance
Employee Assistance Program (EAP)
On-site fitness facilities (Minneapolis)
Wellness programs and competitions
Pre-tax parking and transit program (Minneapolis)
Continuing Education & Other Benefits
Paid professional development hours and training
Paid professional certifications and organization memberships
Continuing education reimbursement program
Alliant also hosts a number of activities and events year-round to foster team-building and reward employees. Our benefits are built around professional development and career advancement to help employees achieve their goals and grow.
Advance Your Career at Alliant