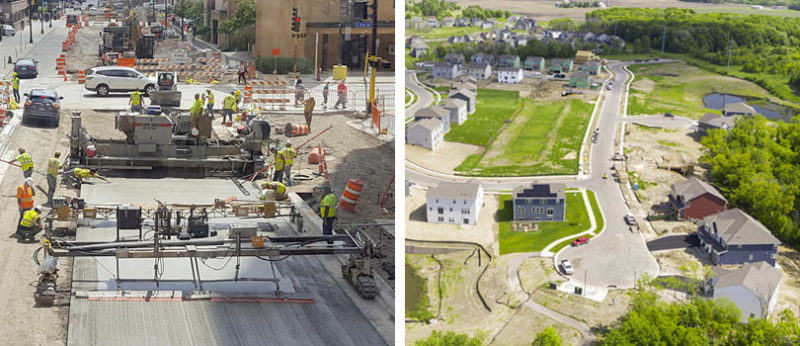 Throughout our history, Alliant has been fortunate to work with clients in both the public and private sectors. Our diverse team and experience give us the knowledge and flexibility to address the unique goals and constraints common among organizations in each realm. With a full line of services designed to maximize value and deliver results for every project, you can rely on Alliant to take on your biggest challenges with solutions that prioritize excellence and integrity.
Public Infrastructure
We take pride in improving lives through public infrastructure projects. Our future-focused approach and innovative solutions make communities safer and more accessible for everyone. From planning and programming in the early stages, through design and construction and, ultimately, becoming part of the community, we provide services that encompass all aspects of a project.
Explore Public Infrastructure
Private Development
We recognize that realizing the highest value on your project, while achieving market-driven goals and building sustainable developments, is your highest priority. By vetting design options that achieve your goals and the requirements of local communities, Alliant will help you find the perfect solution for your project site.
Explore Private Development
A Network of Relationships
When you work with Alliant, you get a lot more than our extensive experience and forward-thinking solutions. Thanks to years of collaboration with private and public partners, our clients benefit from our vast network of relationships that spans market sectors and industries. Implementing a large-scale infrastructure or development project requires cooperation across public and private sectors. Communication and collaboration are the keys to success as we work to get your project design approved and construction underway.
Through our relationships with attorneys, realtors, brokers, public agency representatives, private sector oversight teams, and other permitting and approval agencies, we navigate all of the complexities associated with implementing your vision. We represent you with professionalism and expertise, allowing us to help you achieve successful outcomes.
Solutions for Every Sector
With a wide range of services and professionals on staff, Alliant is uniquely prepared to support clients from all backgrounds. From landscape architecture and surveying to roadway design and traffic engineering, we offer the capabilities needed to execute all stages of your plan efficiently. Browse through our project gallery to learn more about our work, then contact us to see how we can help assist you with any upcoming needs.
Explore Our Services