The theme for Engineers Week 2022 was "Reimagining the Possible". Ryan Shore shared how one of his projects does just that.
I-35W Minnesota River Bridge
"I-35W Minnesota River Bridge was my first Design-Build project that I have seen through construction, and it reimagines the possible in many ways. A specific concept that I am proud to have helped in is the design to accommodate a shared-use trail on the river bridge itself. It is one of the few multimodal trails on an interstate bridge in Minnesota. The trails continue on either side of the river providing pedestrian and new mountain bike trails. This was realized with intensive geotechnical engineering and agency coordination. Connecting both sides of the Minnesota River with a shared-use path is a testament to including all forms of transportation in the overall design process, and it was great to make that possible."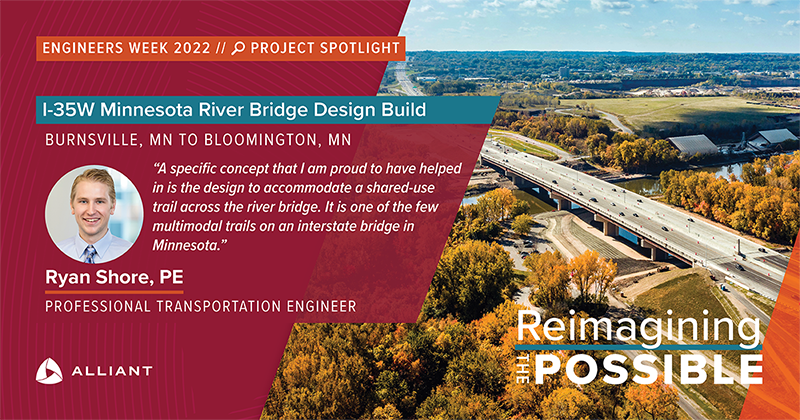 Silt Mitigation
Sarah Barnett, PE showcases our work on Silt Mitigation – a water resources project in Morton, Minnesota. To Sarah, this project highlights how much her work makes a difference. "I really enjoy both the technical and the creative parts of my job, and how they come together to reimage the possible." Watch the video below to hear more.
Highland Bridge Ford Site Redevelopment
Ben Palazzolo, EIT, is working with Pulte and Ryan Construction to reimage the possible, building a whole community where an automobile manufacturing plant once stood.
"The Highland Bridge Ford Site Redevelopment in St. Paul, Minnesota reimagines the possible in many ways. The site is the former home of the Ford Factory, which closed in 2011. Surrounded by well-established neighborhoods with quick access to St. Paul's trail systems, the area also includes countless restaurants, shops, and parks. The redevelopment of this 122-acre site is years in the making and requires innovation and thoughtful design. As part of the Pulte team, we are providing civil engineering, landscape architecture, and land survey for the Row Homes portion of the new community. This project helps us reimagine how we can build better communities through the urban renewal of this storied site."